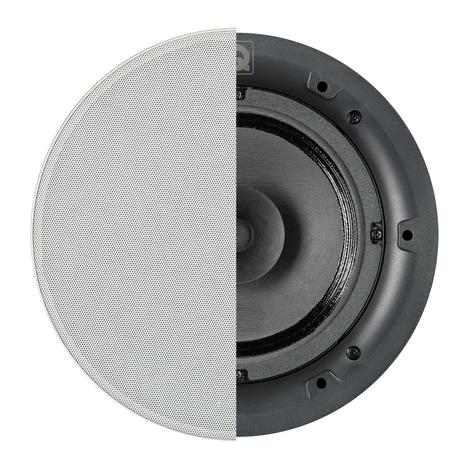 The Qi65CB speaker has been designed to offer exceptional value in terms of performance and cost, its efficiency is particularly high, in fact it requires less than half the amplifier power of the standard Qi65C to produce the same volume of sound. It is also incredibly shallow making it Q Install's slimmest speaker with a maximum rear depth of just 73 mm.
Moisture Proof Design
Shallow depth requirement – all models are less than 84 mm deep
Q Install ceiling speakers utilize 'UL94' flame retardant materials
Q Install speakers come carefully packaged with installation template and fitting instructions
Easy To Install
A cutter guide is supplied to mark out the hole you need to make. The speakers then attach to your ceiling via four clamps you screw from the front.
Drive Units:
– Tweeter Sympathetic Radiator
– Tweeter Diameter 2.2"-
– Woofer Diameter 6.5"
Cutout Size mm 203mm
Power Handling (program) 10-50W
Impedance (nominal) ohms 8ohm
Sensitivity 93dB
Response (low Freq.) -3dB 77Hz
Maximum Rear Depth mm 73
Size (round grilles) 232
Low profile circular grilles
Easy to install 'dog-leg' fixings
Shallow depth less than 84mm