Our 3010i 5.1 Plus Home Theater Speaker system combines the very best of the 3000i Series to deliver a stunning, compact home cinema system ensuring you hear every detail at its very best from your favorite movies and music especially with the latest Q B12 subwoofer addition. The new Q B12 is the first Q Acoustics subwoofer to feature a 12 inch driver. The 3010i 5.1 cinema package is derived from its award-winning predecessors and boasts an extended cabinet size delivering a larger sound, P2P™ (Point to Point) bracing for additional cabinet stability for a purer, more dynamic home cinema sound.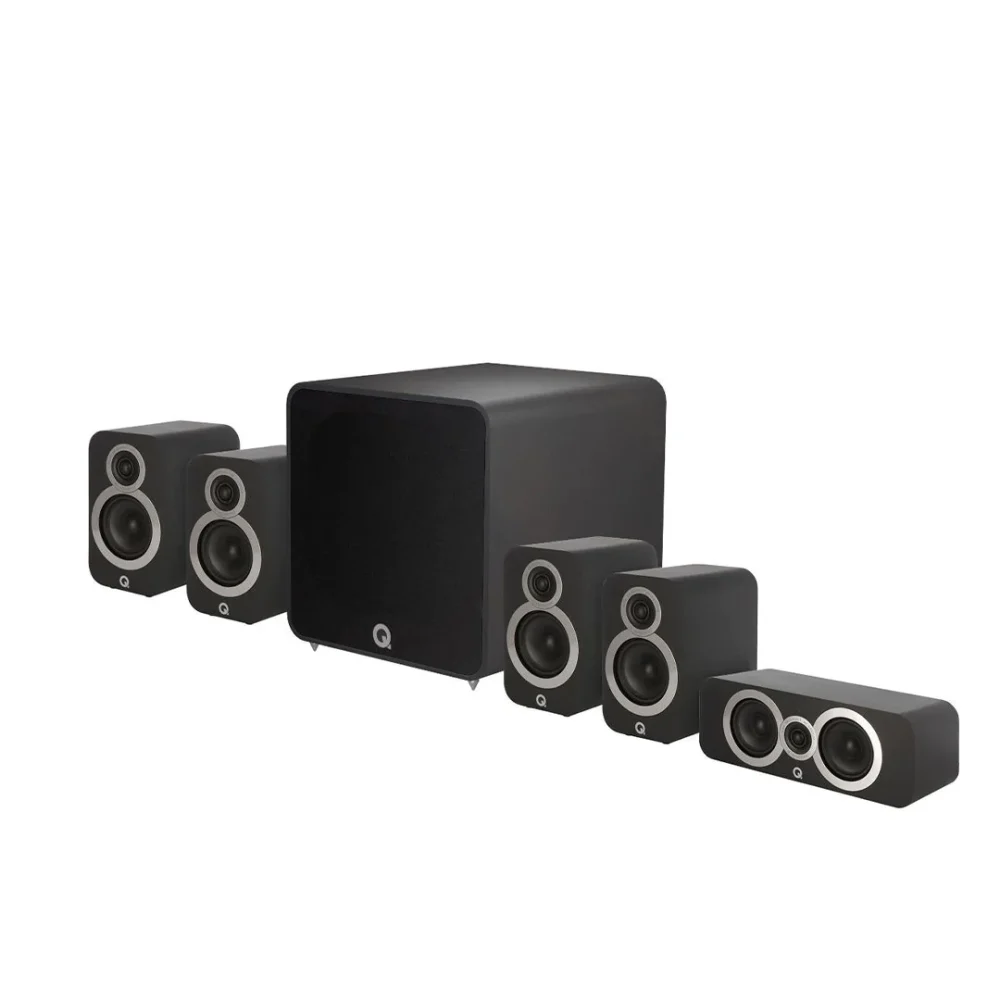 Natural Dialogue to Explosive Sound – Perfect for Music & Movies
Each speaker that forms part of the Q 3010i 5.1 Plus Home Theater Speaker Package is a genuine hi-fi speakers incorporating a wealth of technology applied to the entire 3000i Series – resulting in an exceptional cinematic performance – perfect for small to medium sized rooms thanks to the compact design of Q3010i shelf speakers. The Q 3010i 5.0 Home Theater Speaker Package also delivers stunning musical performances.
By combining the award winning speaker package with the latest 12 inch driver Q B12 subwoofer, we deliver a large sound and deep bass that you may not expect from compact bookshelf sound systems.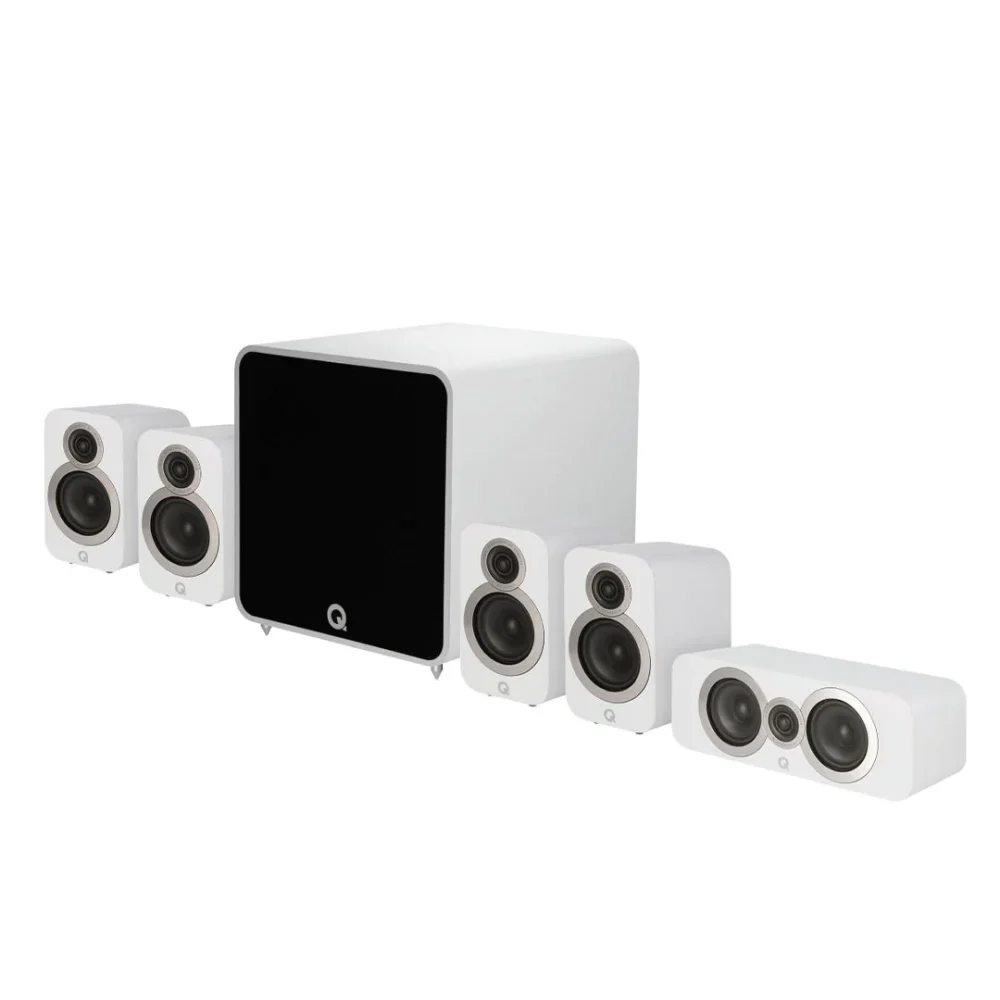 Easy Room Positioning
Across the entire 3000i Series, conventional terminal panel cut-outs have been removed, giving greatly improved structural integrity to the enclosures. New low profile binding posts have been incorporated with sockets deep enough to accept 4mm (0.16 in) Banana Plugs.
The speaker can be positioned very close to a rear wall even when banana plugs rather than spades or bare wires are used which means the Q 3010i 5.1 Plus Home Cinema system can be a seamless addition to your listening room, especially with the choice of finishes.
The Q 3010i bookshelf speakers can be shelf-mounted on compliant, pre-fitted rubber feet, stand-mounted or wall-mounted on optional. Dedicated floor stands and wall brackets are designed to give you ultimate flexibility in your home cinema setup.
The Q 3090Ci center speaker is the same width as most Amplifiers and AV Receivers so will fit attractively into the specialist furniture designed to house them. Center speaker can also be shelf or cabinet mounted.
Q B12 subwoofer; bass frequencies are substantially omni-directional. Although this means that you can position the subwoofer almost anywhere, the stereo image will still benefit from positioning the subwoofer in line with the front loudspeakers and as central to the listening position as possible. However, this may not be feasible in a multichannel system. If you place the subwoofer too close to a wall the bass will be reinforced, therefore in some locations the bass may be boomy and indistinct.
Extra comparable channels can be added to provide 7.1 or Atmos and DTS:X formats.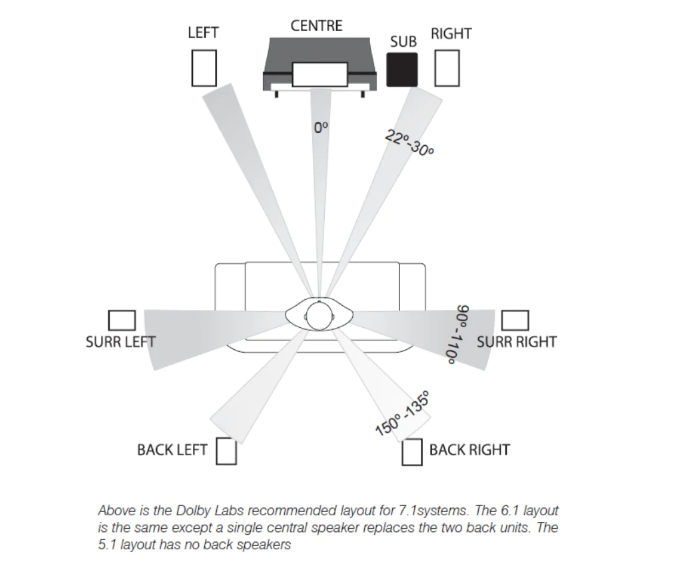 Specifications
| | |
| --- | --- |
| Bass Unit | 3010i Shelf Speaker: 100 mm (4 in), 3090i Center Speaker: 2 x 100 mm (4 in), Q B12 Subwoofer: 305 mm (12 in) |
| Crossover Frequency | 3010i Speaker: 2.6 kHz, 3090i Speaker: 2.7 kHz, Q B12 Subwoofer: 70 Hz – 225 Hz |
| Dimensions | (H/D/W) 3010i Speaker: 5.9″ x 10.0″ x 9.9″ 3090i Speaker: 16.9″ x 6.0″ x 8.5″ Q B12 Subwoofer: 15.75″ x 17.56″ x 15.75″ |
| Effective Volume | 3010i Speaker: 4.0 L (244 cu in), 3090i Speaker: 6.6 L (403 cu in) |
| Enclosure Type | Speakers: 2-Way Reflex, Q B12 Subwoofer: Infinite Baffle |
| Frequency Response | 3010i Speaker: (+3 dB, -6 dB) 65 Hz – 30 kHz, 3090i Speaker: (+3 dB, -6 dB) 75 Hz – 30 kHz, Q B12 Subwoofer: 28 Hz – 300 Hz |
| Sensitivity | 3010i Speaker: 86 dB (2.83 V@1 m), 3090i Speaker: 89 dB (2.83 V@1 m) |
In The Box
1 x Q B12 Subwoofer
4 x 3010i Bookshelf Speakers
1 x 3090ci Center Speaker