Q Acoustics Concept 40 Front Floorstanding Speakers
The Concept 40 is Q Acoustics' flagship floorstanding speaker. It is the latest addition of the acclaimed, award winning Concept range and, like so many Q Acoustics models, delivers an unparalleled sonic performance at its price. We firmly believe the Concept 40 speakers sets new standards, even outperforming many speakers in higher price brackets.
In common with the Concept 20, its award-winning 'little brother', the new Concept 40's extraordinary soundstage, dynamics and sheer musicality is achieved by incorporating its bespoke drive units into a 'Gelcore™ Construction' cabinet. This State-of-the-Art, ultra-low resonance and beautifully lacquered cabinet design allows the drive units to perform at their very impressive best.
The low distortion drive units incorporate powerful oversized magnets to ensure wide dynamics and an ultra-fast transient response. The elegant tripod stand allows the Concept 40 to achieve perfect rigidity and floor contact which further enhances its performance.
With 90dB sensitivity and a nominal impedance of 8 ohms, the Concept 40 is easily driven by any good quality amplifier. This striking floorstanding loudspeaker is available in either high gloss black, or high gloss white finishes.
Q Acoustics Concept 20 Rear Bookshelf Speakers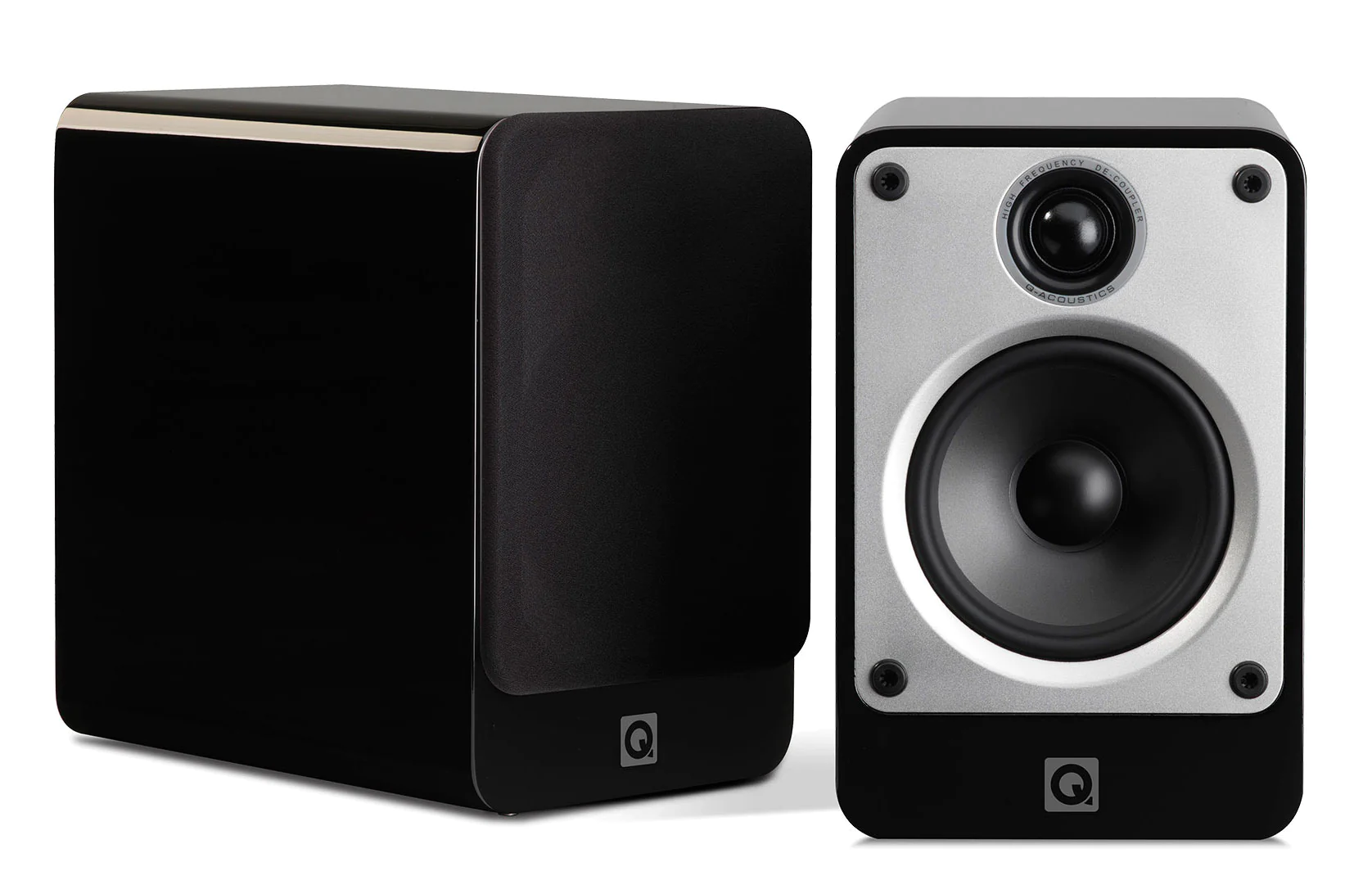 The beautifully finished, compact and eminently affordable Concept 20 loudspeaker is designed for music lovers who wish to enjoy performances at their very highest quality. The Concept 20 changes everything. Their revolutionary 'Gelcore™ Construction' incorporated into their design means, for the very first time, music lovers can enjoy genuine 'high end' sonic performance at a very affordable price.
The astonishing ability of the Concept 20 is best revealed when the loudspeakers are used in conjunction with the matching Concept 20 Speaker Stands which, to optimise performance, boasts a Gelcore™ layer in its top plate. This is both visually striking and is resonance-free to optimise sonic performance. With the option of either lacquered gloss black, or lacquered gloss white, not only will they sound amazing, but will also look great. Their versatile design means they are also at home on furniture, bookshelves or suitable wall brackets. Wherever you decide to place them, they will deliver an amazing experience that many of those with a higher price range struggle to reach.
Q Acoustics Concept Center Channel Speaker
At the heart of any home cinema system is the Center channel, handling the difficult dialogue and often much more. The Concept Center is a precisely optimized implementation of the Gelcore™ cabinet technology used in the Concept 20 and 40, in order to bring the highest quality performance from this key Home Cinema component. This ultra-low resonance and beautifully lacquered cabinet design with magnetic grille allows the dual 105mm drive units and wide dispersion 25mm tweeter to perform at their very articulate best.
The Concept Center uses Gelcore™ Cabinet Construction, where two layers of MDF, are separated by a bespoke, resonance absorbing, non-setting adhesive, which converts the kinetic energy and disperses it as heat. This substantially reduces distortion and allows the individual drive units to deliver their optimal performance; a pure and uncolored sound.
The Concept Center is easily driven by any good quality amplifier, providing effortless peaks and crescendos in music and movies soundtracks. Alternative locations for positioning the speaker in the listening room are catered for by providing a foam bung which can be inserted in the rear-mounted reflex port modifying the bass response to suit positioning against a rear wall or in AV furniture.
Q Acoustics B12 Subwoofer
220 watts of Class D power driving a long-throw 12inch drive unit sounds like a recipe for action. And that's exactly what it is – no Hollywood blockbuster soundtrack features explosions too loud, too deep or too powerful for Q B12 to handle. But power is nothing without control, and Q B12 is just as comfortable describing the nuances of a double bass or an electronic kick-drum.
Q Acoustics Concept 20 Stand Gloss White Pair
Supporting Your Speaker in a Unique Way
The Concept 20 stand has been purpose built to deliver the best possible sound and complement your listening environment, acoustically and aesthetically. The interface between the speaker and the stand is a mounting platform designed using GelcoreTM principals to minimise the transmission of vibrations, producing a purer sound. Three specially designed steel mounting feet replace the rubber feet on the Concept 20 for a perfect fit with the stand.
Yamaha RX-V4A
5.2-Channel AV Receiver with 8K HDMI and MusicCast
Bring the theater home. This 5.2-channel 80 Watt AV receiver creates a powerful and advanced home theater experience with the latest in video processing and Dolby TrueHD, DTS-HD Master Audio, app control, wireless streaming and more.
5.2-channel 80 Watt surround sound with Dolby TrueHD and DTS-HD
4K120AB and 8K60B HDMI with HDCP 2.3 and eARC (4 in/1 out)
Dolby Vision™, Hybrid Log-Gamma and BT.2020
Supports enhanced media and gaming – ALLM and VRR
Wi-Fi®, AirPlay 2®, Spotify Connect and Voice Control
MusicCast App control
Pandora®, Spotify, Amazon Music, SiriusXM, TIDAL, Deezer, Napster and more
YPAO automatic room calibration