Designed for your best workout
Bose Sport Earbuds are designed from the ground up to energise your exercise with vivid, realistic sound and a comfortable, secure fit. Exclusive technologies make your music sound clear and balanced, no matter how loud you turn it up. Their sleek design allows them to sit close to your ears. And their eartips (capsules) won't hurt your ears no matter how long you exercise and won't fall off no matter how much you move. Get ready to beat your personal record, over and over again.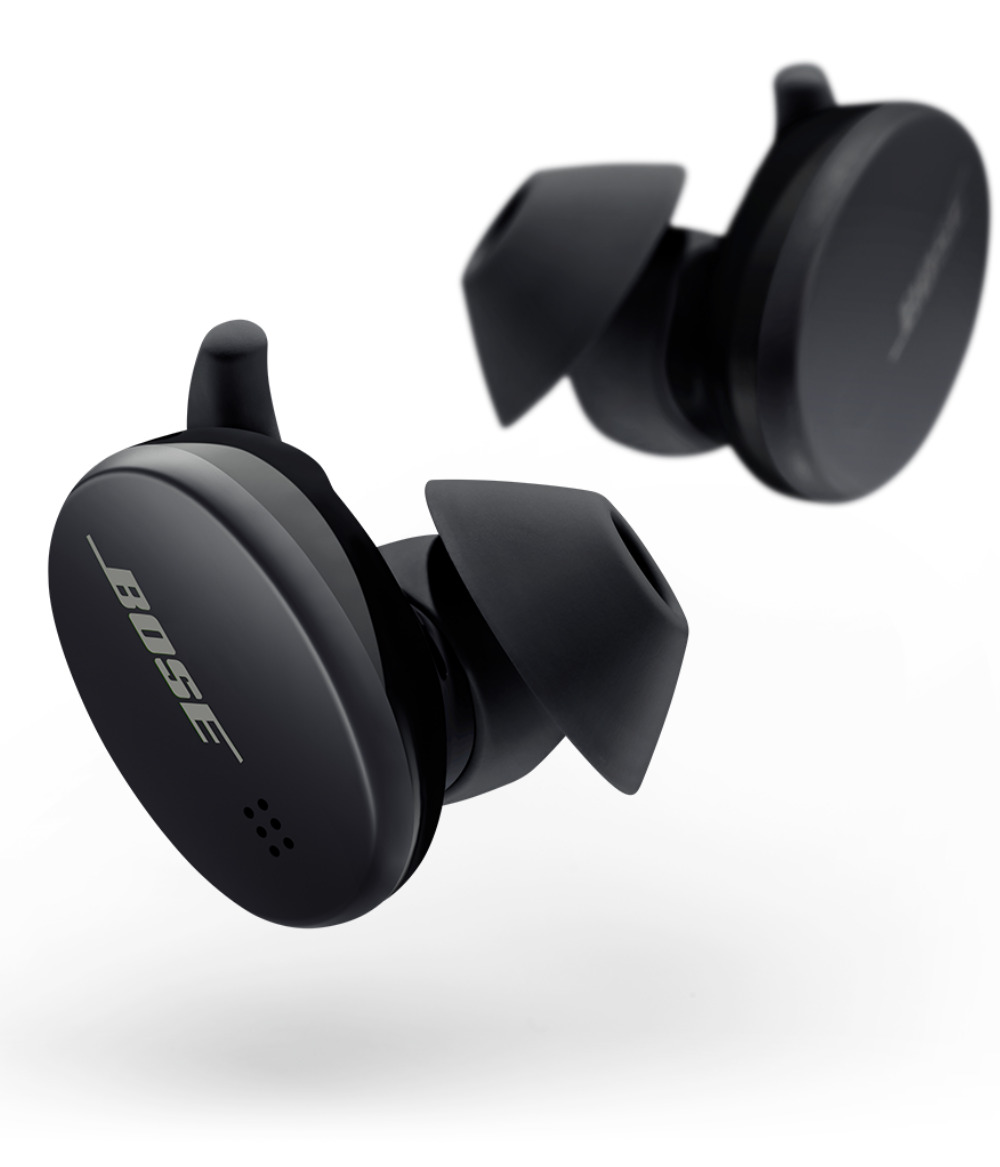 Convenient for gymnastics and long workouts
Bose Sport Earbuds make your music sound like the performer is right next to you, pushing you to go another mile or do another repetition. The patented earphone port design and premium, high-performance drivers combine to deliver big sound from a small earphone. The volume-optimizing Active EQ feature automatically boosts lows and highs so that music, videos and voices always sound balanced at any listening level. And the new StayHear™Max capsules create a tight seal with the ear canal, so you can focus on your music and workout without interference from outside noise.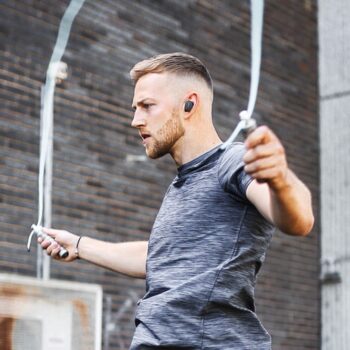 You are moving. These stay.
Bose Sport Earbuds come with three sizes of StayHear™ Max eartips, so you can find the right one for you. Every surface that touches your ear is made of soft silicone-not hard plastic-and by applying pressure evenly across your ear, the earbuds avoid extra pressure on the most sensitive parts. Meanwhile, their unique umbrella-style shape and flexible hook keep your Bose Sport Earbuds securely in place-without the need for an internal ear hook-no matter how much you shake your head or jump up and down.
Designed to resist moisture from sweat and weather, Bose Sport Earbuds undergo rigorous quality durability testing to ensure they stay in top condition. They're also IPX4 rated, which means the electronics in each earpiece are protected from water splashes should you come into contact with the wet element during your workout.
All functions at your fingertips
Instead of buttons, the Bose Sport Earbuds feature a capacitive touch interface. This means that the outer surface of each earpiece acts like a touchpad. On the right earpiece, you can tap twice to play or pause music and answer calls. And on the left earpiece, you can tap twice to activate your shortcut feature of choice, such as checking the battery level (which you can set in the Bose Music App)
Keep talking to your loved ones and moving at the same time
When you get a call while wearing Bose Sport Earbuds, instead of interrupting your workout, simply press and hold the right earpiece twice to answer or press and hold to reject. If you answer, you'll hear the call clearly in both ears. Meanwhile, thanks to the beam microphone setup that separates your voice from ambient noise, the person calling you will also hear you very clearly.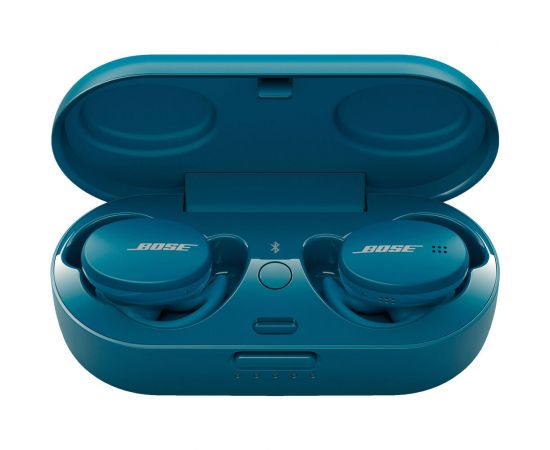 They will not give up before you
Bose Sport Earbuds deliver up to five hours of battery life per charge. Charging is done by placing them in the included charging case. If the case is charged, it will automatically charge the earbuds. When fully charged, the case can provide two full charges for up to 10 additional hours of use. And if your battery runs out when you're on the go, you can do a 15-minute quick charge for up to two hours of playback.
Settings, updates and more
Bose Sport Earbuds connect to the free Bose Music App, which lets you name your earbuds, make settings the way you like, control your battery life, manage Bluetooth connections and more. It's also how you get software updates with new features we're working on. Be sure to download the app to keep up to date.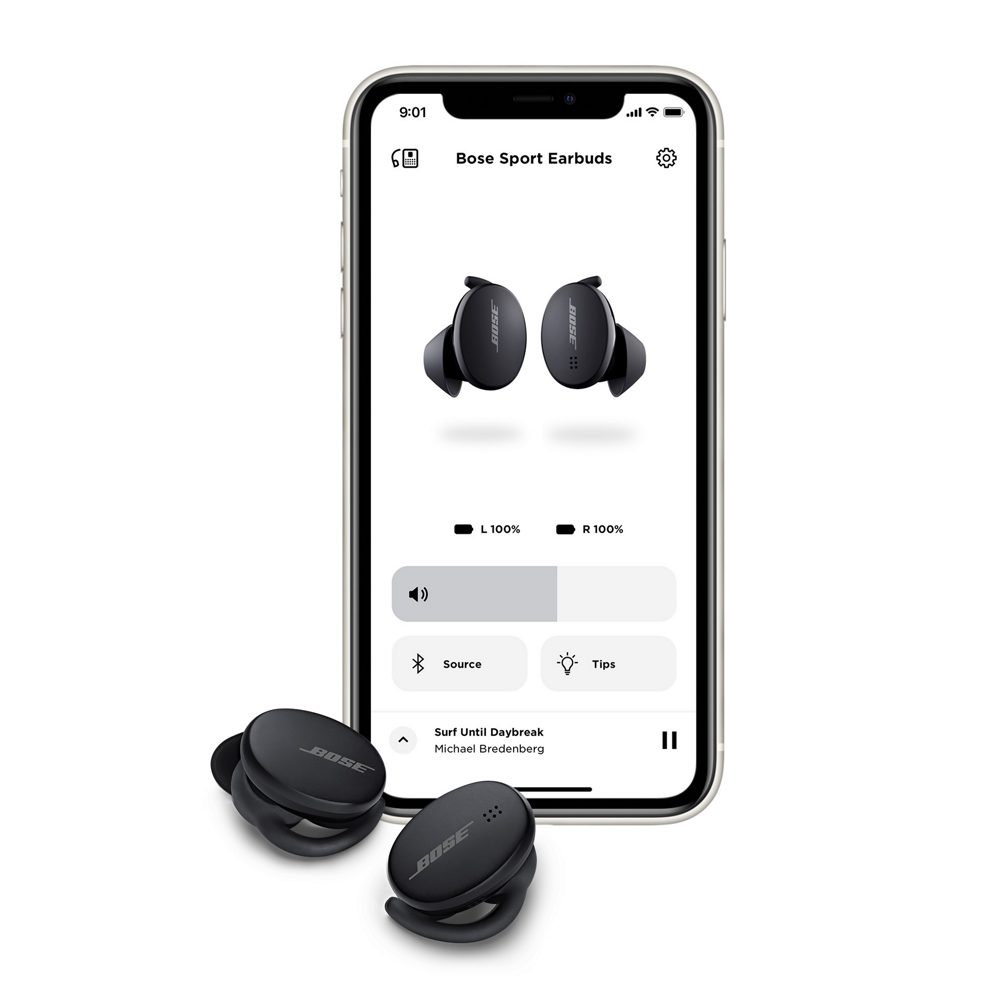 No wires. No obstacles.
As truly wireless Bluetooth® headphones, Bose Sport Earbuds offer total freedom of movement. As long as you're within 9 metres of your device, you can hear everything that's playing. And with a specially designed antenna hidden on the outside of each earpiece, you'll stay connected.
Dimensions/Weight
Headset: 1.87cm H x 2.66 cm W x 2.10 cm D
Charging case: 2.9cm H x 9.1cm W x 4.1cm D
USB cable: 30 cm
Battery
Battery life: Up to 5 hours
– Headset charging time: 2 hours
– Carrying case charging time: 3 hours
– Fast charging time: 15 minutes for 2 hours
– Battery charging method: USB-C
– Headphone battery type: lithium-ion
– Case battery type: lithium-ion
Bluetooth
– Bluetooth range: up to 9 m
– Bluetooth version: 5.1
– Codec: SBC and AAC
Microphones
4 microphones in total
2 Bose Sport Earbuds with medium size eartips
 Small and Large Eartips
 USB-C (A to C) charging cable
 Quick Start Guide