Standout sound quality
Custom titanium drivers – nestled under detachable magnetic earcups – are tuned to our tightest tolerance on performance. It's done under the watchful ear of our in-house Tonmeister. The result? More lush lows, punchier mids and crisper highs. Put simply, you'll hear magical details you've never heard before.
Put the world on pause. Adaptive ANC.
Five levels of noise cancellation make H95 our most advanced ANC headphones yet, handling everything from the hum of home life to the commotion of a commute. Simply spin the earcup wheel to set it just right. When the noise changes, it adapts to match – keeping you in the moment, the way it should be.
Crafted for the senses
You can see it in the soft lambskin leather, picked and stitched with exacting attention to detail. You can feel it in the precision-cut aluminium frame that's robust yet beautiful. Even the carry case tells the story. Timeless design, made to last for generations.
Almost-unreal comfort
So comfortable, it's like you're not wearing them at all. Oval memory foam cushions, soft top grain lambskin and a superior fit invite you to play all day.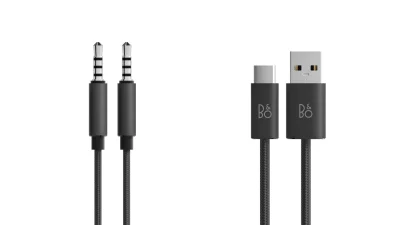 Standout accessories, made to fit in.
Beoplay H95's finishing touches are made to be touched. Like the cable, which features aluminium details and woven fabric that matches the colour of your headphones.
Portable and foldable
For the rare moments you'll take them off, H95 can be folded and placed into the custom hardcase, which is lined with a super soft textile finish. No matter how much you move, they'll be safe and sound.
Music at your fingertips
More bass, more warmth, more you. Personalise your listening experience with the B&O app. Beosonic equalizer and noise cancellation adjusters give you complete control over how you listen, with just a tap.
Adaptive Active Noise Cancellation Transparency mode
Electro-dynamic titanium driver, 40 mm diameter
Presets available and fully customisable through the Bang & Olufsen App
Aluminium
Titanium
Lambskin leather
Cowhide leather
Polymer
Fabric
Dust and Waterproof Rating
IP53
Dimensions (Width x Height x Depth) (mm)
Headphones: 185 W x 165 H x 80 D
Aluminium carrying case: 200 W x 180 H x 63 D
Headphones: 323 g
Aluminium carrying case: 500 g
Up to 38 hours with Bluetooth and Adaptive Active Noise Cancellation
Up to 50 hours with Bluetooth
Voice Assistant Integration
Dedicated button for native Voice Assistant
Total: 6
4 x MEMS microphones for voice (2 microphones shared with ANC)
4 x Dedicated MEMS microphones for ANC function (2 microphones in each earcup)
Certifications / Fast Pairing
Made for iPhone (MFi) Google Fast Pair Microsoft Swift Pair