Provide shade, increase convenience
We offer solutions for your shutter, awning and blind control with manual or automatic operation, wireless or cabled in a smart-home system. That is convenient, protects against overheated rooms and preserves your privacy. Furthermore, coordinated shading control makes it more difficult to pry open windows and makes presence simulation possible. Your shade control, your rules – completely according to your individual requirements.
Manual control
Targeted with the press of a button: with our blind push-buttons and timer switches, you can simply control the shade in your home or in the office according to your wishes.
Conventional blind push-button
Those who have motorised shutters or blinds know them: with a blind switch you can reliably and easily move the shading up and down. Available in all JUNG design ranges and also as a single switch.
Blind push-button for LB Management
Like conventional switches – but can do more. Blind push-buttons and timer switches from LB Management store movement times among other things and have lock-out protection.
Push-buttons for the smart home
Control up to four blinds or shutters with one device instead of hanging four individual switches on the wall: each button can be allocated individual functions. The prerequisite for using smart push-buttons is a KNX or eNet SMART HOME system.
Completely automatic
Move the blind up or down or adjust the slat position depending on the angle of the sun. The control of the individual functions is automatic using sensors, a timer switch or with your smartphone using a JUNG app.
Timer switch with display
This timer switch controls your shutters, blinds or awnings at the times set by you. With the arrow buttons you can manually move the shading up or down. Thanks to the astro function, the timer switch deals with the adjustment for summer and winter time.
Timer switch with Bluetooth
The combination of manual and automatic control: operate the shading manually with the two rockers or programme the movement times with a smartphone and the Clever Config app. To do so, you pair your mobile device directly with the device on the wall.
Smart Control touch display
Lower the blind by moving a slider: touch displays with smart apps provide a special kind of operation. Using preset procedures, the privacy protection moves down in a single sequence. For this you need a smart home with eNet SMART HOME or KNX.
Flexible wireless control
High flexibility in all rooms. With our solutions you always have sun protection under control. Position battery-operated wall transmitters where you need them.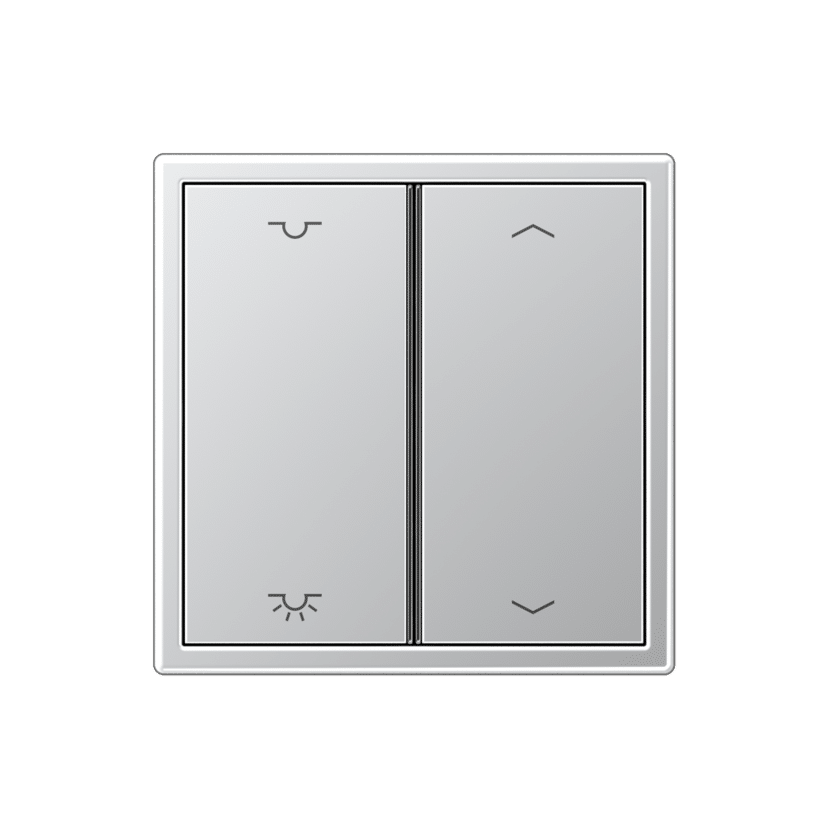 eNet F 40 wall transmitter
Buttons that can be allocated with individual functions on the F 40 radio transmitters ensure high flexibility: the device can be attached at any point in the house as the eNet SMART HOME intelligent system communicates wirelessly. In addition, individual labelling of the surfaces makes operation easier.
eNet F 50 wall transmitter
Similar wall transmitter, different design: the large labelling field ensures simple use. The F 50 wall transmitter impresses with its operating concept: for example, the left button lowers the blind, the right one moves it up. Each button can control up to two functions.
eNet Standard radio centre plate
You have already chosen LB Management? Then raise it to the next level with this button: the eNet radio centre plate uses the existing flush-mounted insert and connects your blind and shutter control wirelessly with JUNG eNet SMART HOME.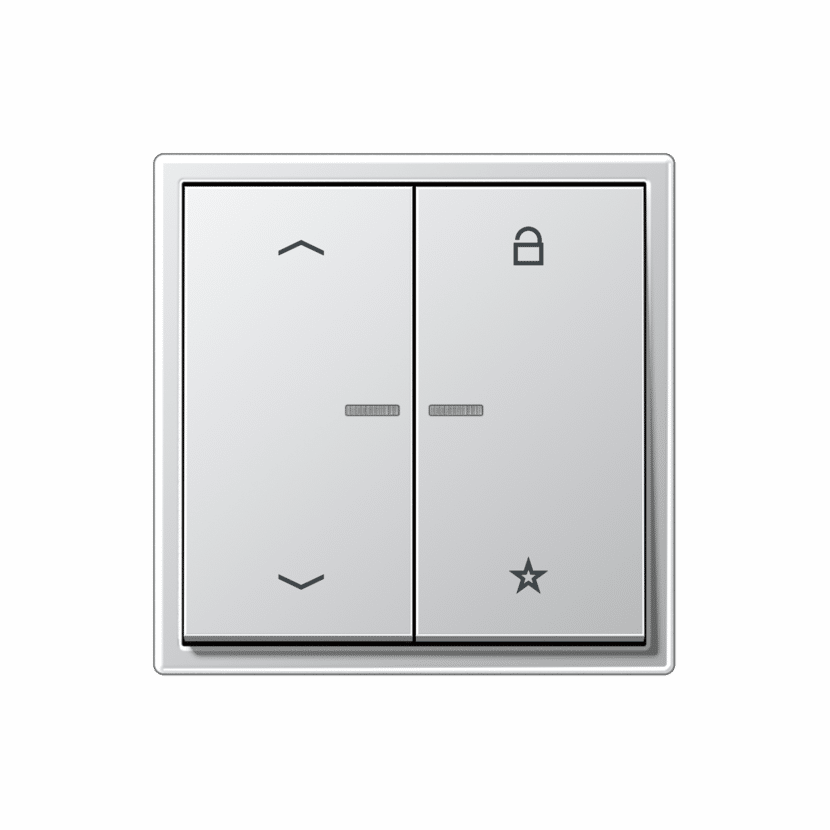 eNet Universal radio centre plate
With this version, you have versatile possibilities to control your shading. You can choose to control them manually with the two rockers or with a smartphone and the Clever Config app. The prerequisite is a flush-mounted insert from LB Management, which this button integrates into eNet SMART HOME by radio.
Control blinds and shutters by voice
The intelligent connection of smart building technology with modern voice control is easy and convenient: with the help of the voice services from Amazon and Google you can control blinds, shutters and awnings on demand.
Voice control with JUNG eNet SMART HOME

Move blinds up and down or adjust the slat positions: with the wireless eNet SMART HOME, these and other functions can be handled easily using voice controls. The eNet Server is compatible with both Amazon Alexa and Google Assistant.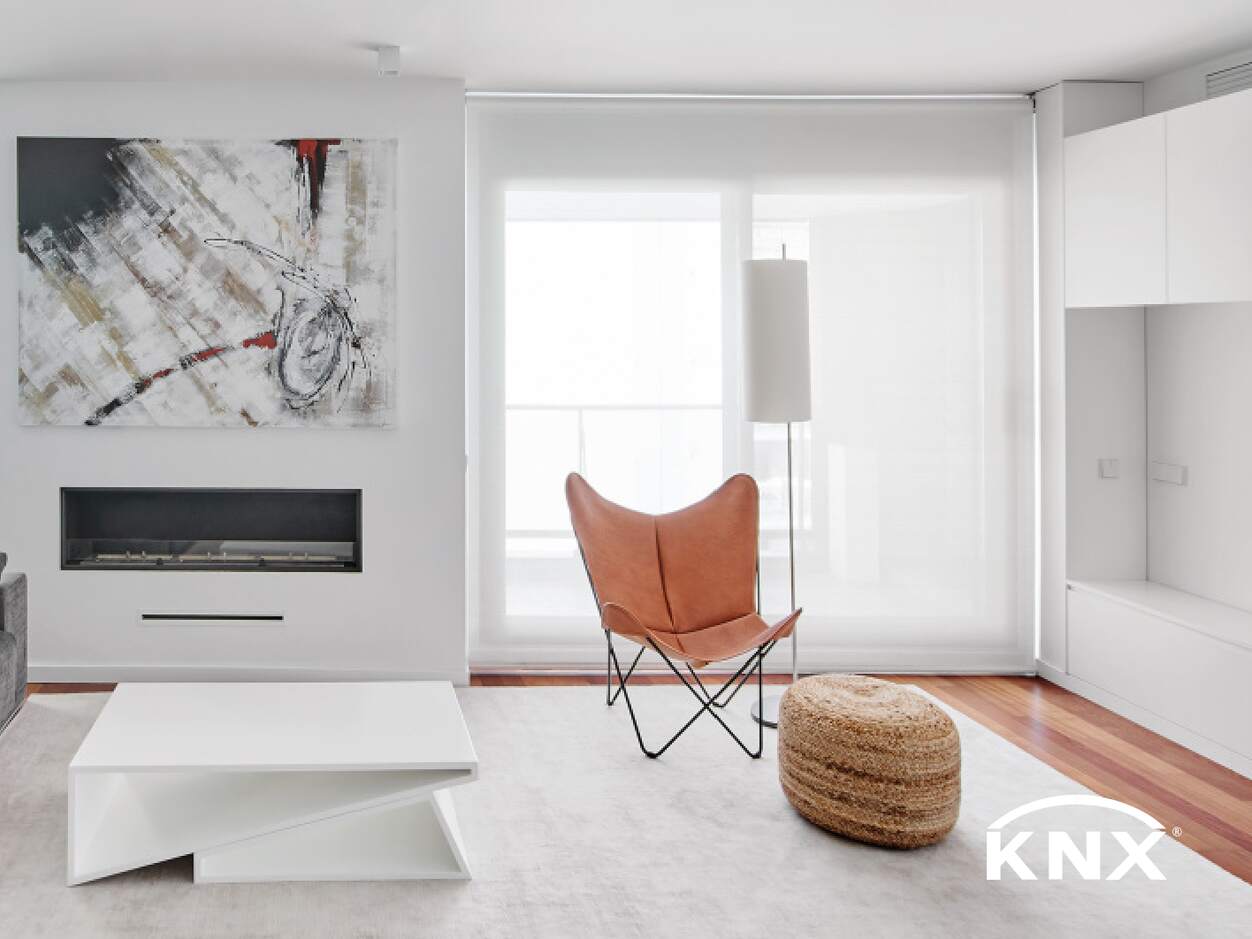 Voice control with JUNG KNX

We combine modern and future-proof smart-home technology with particularly convenient control. With the help of the Amazon Alexa and Google Assistant services and a JUNG KNX server, you can control shutters, blinds or awnings by voice command.

Mobile operation

Convenient living with ideal lighting conditions: lower blinds with your smartphone as well. Once set up, put the shading into position with just a fingertip in the future. Configure simply in the app and operate on the move at any time.

Clever Config

Configure and operate the Bluetooth capable switches for the shading in your home using a smartphone with the Clever Config app.

eNet SMART HOME

You operate your wireless smart home and make all settings around your home with the help of the eNet SMART HOME app. Control blinds, shutters, awnings and much more.

Smart Visu Server

Lowered blinds in the living room, raised shutters in the kitchen: control the shade in your KNX system completely according to your requirements – conveniently with an app.